About the AIS Technology Awards
Since our inception almost a decade ago, our leadership has committed us to bestowing honors on our colleagues active in creating amazing technical solutions for our creative community. The Technology Awards allow us to shine the spotlight on what and who are driving our industry forward technically today (and tomorrow). When historians wish at some future date to know who and what mattered to our industry's progress in 2018, they will need to look no further than our honorees.
The Societies Annual Lumiere Awards for Creative Content Achievement will be held February 12th.

About the AIS Lumiere Award Statuette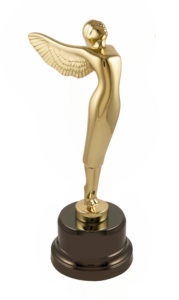 Made for the Society by the R.S. Owens Company of Chicago, (who also manufacture the Oscar for the Academy Awards), The Lumiere Statuette depicts the Roman goddess of dawn, Aurora, lifting her head to greet the morning light. She is made of bronze and covered with gold and is seen in the company of Oscars, Emmys, Golden Lions and BAFTA Awards in display cabinets around the world. These statuettes are presented as the pinnacle of entertainments arts and technologies by our chapters in China, Japan, and Europe.
Partner Events
Contact us for speaking opportunities
© 2017 The Advanced Imaging Society