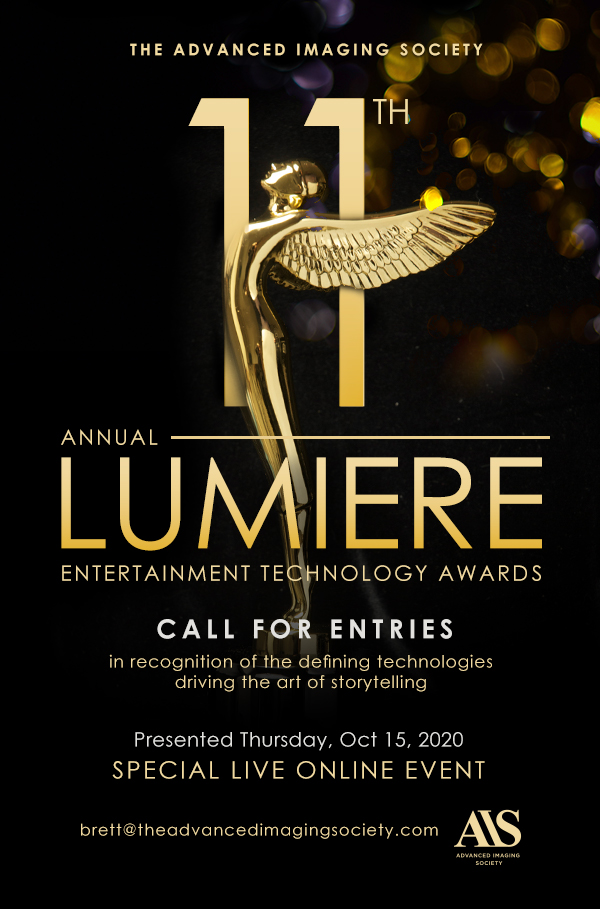 2020 Entertainment Technology Lumiere Awards
(A Special Note)
COVID-19 has presented our technical and creative communities with unprecedented challenges. The AIS Awards Committee wishes to acknowledge outstanding efforts by our communities to meet these challenges and deliver production results with innovation and impact. So in addition to our annual array of entertainment technology entries, we also encourage specific submissions showcasing "solutions to COVID-19 related challenges."
All entries must be received no later than Monday, 5:00pm PDT, August 31st, 2020 to be considered for the October 15th virtual award presentation.
Official Rules & Regulations
I. Awards Definitions and Policy
II. Eligibility
III. Deadlines
IV. Nominations
V. Voting
I.  AWARDS DEFINITIONS AND POLICY
The Entertainment Technology Award program annually acknowledges and celebrates technologies and processes demonstrating both innovation and impact in advancing the future of the entertainment and media industries including, but not limited to: theatrical, video, virtual reality, augmented reality, mixed reality, themed attractions, and other forms of relevant content.
Technologies to be considered eligible for an award include those which will advance achievement of artists and technicians working in image generation, capture, revisualization, rendering, pre-production, production, post-production, conversion, software, projection, display devices, head-mounted displays, capture systems, distribution and delivery systems and related new innovations including virtual on-set production systems, machine learning applications, cloud computing, and blockchain products or solutions that will drive excellence in the next generation of premium consumer experiences.
Examples of advanced imaging enabling technologies include but are not limited to: In-camera effects & virtual sets, real-time production, high dynamic range, high frame rate, wide color gamut, new display technology (e.g. 8k, OLED), game engine, haptics, stereoscopic 3D, holographic, virtual reality, augmented and mixed reality, light field technology and volumetric capture.
Traditional Lumiere Award Statuettes will be presented to winning technologies made available in the marketplace between June 1, 2019 and May 31, 2020. "New product" awards may be presented at the sole discretion of the judging committee for products not yet in the market, but which deserve special recognition for their potential to impact excellence.
In order to promote the natural course of uninhibited industry achievement, recognition will not fall into specific categories.
The recipient(s) for this award will be the Organization, Team or Individual(s) directly responsible for the technology, innovation or product being nominated.
II.  ELIGIBILITY
Eligibility is contingent upon approval by the Advanced Imaging Society Technology Awards Committee, who shall have sole discretion.
In the event of any dispute concerning credits, the Advanced Imaging Society reserves the right to declare any achievement ineligible or alternatively, to reject all claims to credit, list credits as being in controversy and withhold any award until the dispute is resolved.
III.  DEADLINES
All Advanced Imaging Society Technology Award Nominations must be submitted by:
Filling out and submitting the information in the Google Form.  Additional materials are encouraged, and should be referenced and linked to in the form.
Deadline for all entries is 5:00pm PDT, August 31st, 2020.
IV.  NOMINATIONS
The Advanced Imaging Society will acknowledge all nominations with an email response to confirm receipt.
Nominees will be invited to make an optional brief presentation to the Awards Committee to explain the nominated technology and its impact on the industry.  Such presentations may be conducted through web conference, and will be scheduled at the sole discretion of the Awards Committee on September 7, 2020. While nominees are strongly encouraged to make such presentations to the Committee, failure to do so shall not disqualify a nomination.
The Advanced Imaging Society Technology Awards Committee will follow up with nominations at their sole discretion.
Any person(s) nominating for the Advanced Imaging Society Technology Awards agrees to comply with the reasonable requests of the Awards Committee for additional information within a reasonable amount of time as deemed appropriate by the Awards Committee.
Nominations may be disqualified if reasonable requests for additional information are not met.
All eligible Nominations may be posted publicly on the Advanced Imaging Society's website: http://www.theadvancedimagingsociety.com
V.  VOTING
Nominations shall be judged based on the degree of innovation, the impact (or expected impact) of the technology, and its relevance to the entertainment industry.
All eligible Nominations will be voted upon by the Advanced Imaging Society Technology Awards Committee. Decisions of the judges are final.
Award recipients will be conferred with an Award from the Advanced Imaging Society at its Technology Awards virtual event.