Live From Cinionic Theater 2021 taping on August 25th, on stage r-l; Jim Chabin, President of the AIS; Wim Buyens, CEO, Cinionic; Mark Zoradi, CEO, Cinemark; John Fithian, President & CEO, the National Association of Theatre Owners.
The Insiders Show podcast is a series of conversations with innovators within entertainment technology and a response to the ongoing need for information due to emerging technologies and changes in consumer behaviors during COVID-19
Find The Insiders Show on your favorite podcast player here.
Paul Dergarabedian, Senior Media Analyst, Comscore
Facing mounting challenges from debt load, to inflationary pressures and the streaming revolution, the movie theater business has a clear message for Hollywood: we need more movies. In an industry tied to the Hollywood film supply, box office expert Paul Dergarabedian joins Wim and Jim to scrutinize the coming slate of films in 2023 and what movie theaters and fans can expect from some of the biggest and most widely anticipated titles in the year ahead.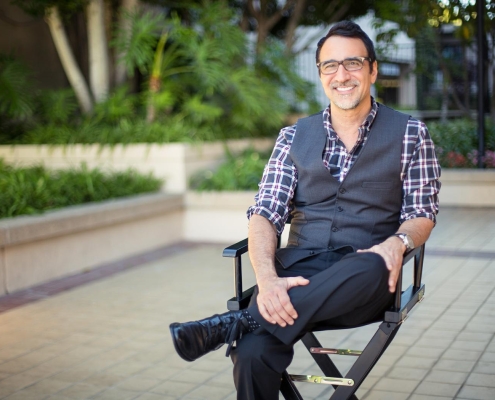 Paul Dergarabedian, Senior Media Analyst, Comscore
With almost 30 years of experience in the field and 8 years at Comscore, Paul Dergarabedian is the movie industry's most recognized and widely quoted authority for media-based information and analysis. In his role as Senior Media Analyst for Comscore, Paul provides expert analysis on results that come from Comscore's real-time movie and television measurement services.
Considered one of the industry's most accomplished experts, Paul founded Media By Numbers in 2006, which later became a division of Hollywood.com, where he served as President of the box office division until October 2013 when he then joined Rentrak (now Comscore).  In addition to weekly credits online and in print, including The Associated Press, CNBC, CNN, Bloomberg News, The Wall Street Journal, Variety, The Hollywood Reporter, The Wrap, Deadline, The Los Angeles Times, The New York Times, among many others, he is regularly featured on television and radio programs.  Paul has also appeared in movie-related documentaries including Being George Clooney, This Film Is Not Yet Rated & The Blockbuster Imperative.
Paul holds a Master's degree from USC's Annenberg School of Communications & a Bachelor's degree from Long Beach State's Television and Film school.