The Insiders Show podcast is a series of conversations with innovators within entertainment technology and a response to the ongoing need for information due to emerging technologies and changes in consumer behaviors during COVID-19
Find The Insiders Show on your favorite podcast player here.
The Impact of Laser on the Cinema Industry
Inside The Future of Cinema ● Wim Buyens
As the Chief Executive Officer of Cinionic, a Barco Company, and the leader in cinematic solutions globally, Wim Buyens has been at the forefront of innovation within the entertainment industry and shares a passion for delivering cutting-edge cinematic experiences to audiences around the world. In this episode, Wim sits down with Jim Chabin to share insights on how we have entered the laser projection  era in cinema, its pivotal role in cinema, and what it means for moviegoers – enhancing and elevating the way we engage with movies.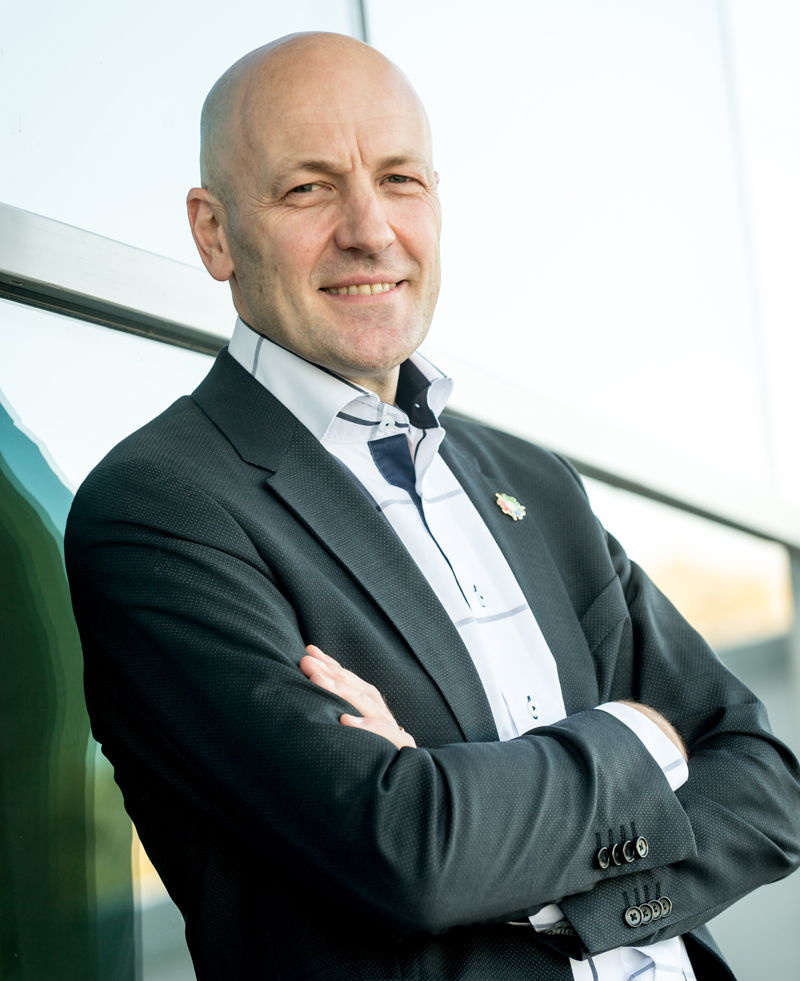 Wim Buyens, Chief Executive Officer, Cinionic
Wim Buyens is the CEO of Cinionic, the cinema joint venture between Barco, Appotronics, and CGS. Wim is a seasoned business leader that has held senior management positions in high tech companies during the past 15 years. He started his career in IT and CAD/CAM, later joining the Danish company Brüel & Kjaer, and subsequently held multiple global leadership positions.
Before Cinionic, Wim led the Entertainment division of Barco, responsible for years of growth and a market #1 position in cinema projection. Wim is a strong advocate for new technologies, such as laser projection, and serves on several technology company boards around the world. Wim studied at Stanford University and Lausanne University. An active member of the cinema community, Wim regularly speaks at industry events and sits on industry association boards, such as the Advanced Imaging Society, where he served as Chairman in 2017.
Welcome to The Inside. In the 41 episodes of this podcast series, we've spoken to directors, producers, cinematographers, and cinema leaders about what makes movies exciting and a vibrant part of our culture. This week, we want to turn the tables and ask our co host to become our special guest insider. Wim Buyens serves as CEO of Cinionic and he's joining us here for a conversation in Los Angeles. Wim, it's great to see you here on this side of the ocean. Cinionic has more than 100,000 projectors installed, illuminating more than half of the cinemas in the world. It's a magnificent achievement.

Today

we want to talk to you a little bit about the journey here, but let me start because as we record this, we're at the end of a couple of years of disruption, whether it's the pandemic or some labor issues in Hollywood, but obviously things are improving. Where are we right now? Where have we been and where are we going? What's your feeling?
It's an interesting moment in time. I think that coming out of COVID, which was earth moving, you know, shaking, you know, the whole industry up. I think we have seen that people coming back to theaters is a given. Now, of course we need to make sure we can get content going. We need to make sure that people are happy working in the industry, like the strikes we're having right now, in order to create continuity. But I think the fundaments are there and the fundaments are strong in my opinion. 
You talk about wanting to wow the audience. And it seems to me that every time we raised the bar, the bar gets raised again. So whether it's the concerts that have been sweeping the world, whether Taylor Swift or these others, Top Gun, these magnificent movies. What is that wow factor that you think the industry has got to have? 
The wow factor for me is about being able to show getting that experience feeling, right? So when people go out, it has to be different. It has to be different than home and it's not just the size of the television or the size of the screen, but it's the whole experience, which is a sound and visual aspect, but also the social aspect. Now, when you can create a special thing like Taylor Swift, you know, you can see it in the movies and people get at a very acceptable price, can watch that show, you're going to flog even more people for that. Some people want to dine in, some people want to sit on a recliner seat, other people want to have some other kind of elements to that movie going experience, but they're all, for me, variations from the same theme. They want to come out, have a good time, have something unique to watch. And that immersiveness, you can't reproduce it anywhere else, I believe. 
Most of us know you from being very active and very high profile in the cinema business, but you didn't come from the cinema business. How long have you been at Barco-Cinionic, and where were you before that time? 
You know, I joined Barco in, I think, it's

November 2007,

feels very long time ago now, more than 15 years ago, but I've always been in technology, right? I've been in a company, it was a Danish company, but very much known for sound and vibration measurement equipment, high, high tech kind of thing. But when they had time to call me at the time and they said, well, you know, are you interested, you know, we got a great position here and this in the cinema space, cinema said, you know, that's good. You know, I like on the weekends to go to the movies. And then I said, well, you know, but the company is called Barco, right? I said, okay. I said, now, now I'm probably willing to listen. And this is maybe one connection because Barco is synonymous of Belgium and is synonymous of a technology company and being in a technology space as myself, being an engineer by education, then that's a company that resonates right? How they, with technology, have changed and impacted the way people visualize things and the way people watch movies, not just movies, by the way, but just big pictures is something we know them from. So I said, okay, let me have a chat and talk. And so that's how it ended in end of 2007 joined the team there. 
You meet with them, you come on board, when you looked around and evaluated what you saw the people and the facilities and the technology — what was it that inspired you? What did—what fired your imagination?
It is a true technology company, right? And you can see that when you when you come in, and even

today

, it's probably even more profound than it was at the time, but it was… coming from technology, you could see that that's what people are passionate about. Now, what I liked is because the first thing I do is, is when I join a company like that, I go to the market, by the way, I'm not just sitting in on the technology app, I go to the market. And the thing that struck me there was that people said. "Hey, what you guys are doing?" Because at the time, by the way, this is the early, early days of digital. And you know, there was not the conversion rate, it was very small, right? So everybody was still analog and 35 millimeter and they said, well, "we love your technology because we came out of the events world and the events world is about showing, you know, big immersive" or not immersive, we didn't call that day, but "visual experiences." And they said, "well, you've got a projector solution, which is great, but by the way, it doesn't fit for cinema", right? And I said, "what do you mean?" They said, "well, you know, the picture quality is better than anything else, but it's not fit for, you know, the application there." That was the first feedback I was getting. So my first assignment there was how to get that right. And so it was reliability and quality and all those things, but it was really making sure that it fits for the application, which did not make me too popular there, because my boss at the time, he said, you're discouraging people because you say it's not good enough. I said, well, if the market doesn't feel it's not good, now it's not good. Well, we make the best projector. Yeah, we do. But the application is slightly different.
I remember you once told me that you told your colleagues, if you don't like what you see in the mirror, don't change the mirror. 
That's right, right, right. And then, and then call it what it is. And so, I said, listen, you know, I believe it's important, right? We're gonna have to put quality teams on. We're gonna have to, you know, put emphasis to reliability. And the funny thing was, that the R&D guys, the product development guys, they love that because nobody want to build a baby which doesn't get successful, right? And if you're not allowed to finish the last piece, and then, you know, you get a lot of questions later on. 
So you encourage the technology creative R&D folks to come up with the best possible product to bring to the market. 
We had the best products coming from events, but not yet for cinema yet. And so making that step for cinema was really what it was. And I was fighting as internal processes and then it got a little bit, the culture of the company, about the fact that it's not just about the latest innovation. But also making sure that it can stay there for a long time. 
As you are reimagining Barco's future in cinema, the cinema industry itself is going through a radical change and that is, people find it difficult to remember but it's true, that in 2007 most movie theaters were film. They relied on film stock in order to project their images.
I was two weeks on the job and I speak with somebody, you know, still around and very respectful, being 30 years in the industry. And he tells me why did you take that job? I said, well, you know technology and this is the future, he said cinema never gonna adapt—as you said—it's never gonna happen, right? Maybe 10% of the market. We're gonna stay with 35 millimeter, that's what we do, and I thought you kidding me, right? Because in my, in my book, it is technology, you can't hold back on, right? It's an evolution, but it can go slower, can go faster. And of course, then, you know, fast forwarding 2009, when Avatar came, then we couldn't go quick enough to get to digital. But that was the thinking 2007 people thought is not going to happen. And of course, now it's irrelevant because we are all there. That's why I was so happy and proud to be able to be part of making that fit of the technology, but also with the market need.
So you're out in the marketplace, you're hearing from your partners all over the world. Describe the moment that you saw laser and thought, this is, this is our future. 
Yeah, this is.. that's an interesting one. So, so I'm, I'm heading the entertainment division of Barco at the time, which, you know, cinema is a big part of. And so we had a CTO and the CTO is a gentleman who was a Dutch gentleman coming from Philips and so on. And he came up with "what are the next big trends we could do", right? And laser was one of them— laser illumination— he had other ideas. And I, and I, I remember I told him, I said, listen, is this really going to happen, you know? And he said, "well", he said, "for me", he said, "this is the trend.".. You are not going to stop because we're going to move more to digital by going to laser, and it allows us to really influence the picture quality significant. But we don't know which lasers we don't know yet. You know, we need to build a projector and the whole thing. So there was faith there from hey, let's do that. And this was a time way before anybody was getting specifically in the cinema space in laser. So it allowed us to get our first laser project out 2014, which we called the flagship laser projector. Big projector, but high performing. But what it really did fundamentally, it allowed us to understand the fundamentals of laser. And that really made us two to three years ahead of anybody else. And I still would say that we have a head start because of that. So, the only thing that I've learned in technology it goes always faster than you think. Did we expect it to go that fast? No, but we knew it was fundamental. And right now laser illumination is just a standard.
So
Cinionic was born out of this period of time. What did you want Cinionic to do that a standalone company could not? 
So we were 2018 at the time and we had different, for instance, in the, in the cinema industry, we said, "let's do things together." But our fundamental thing was how can we accelerate going to a laser illumination kind of fleet of projectors on the market? And the fundamental reason was the following: we said that if we cannot lift up the quality, the picture quality, the experience quality of a theater, people are not going to come. So let's stop saying a projector is good enough and let's say we get the picture quality, that we get people coming. So our mantra changed instead of selling projectors, I always say, getting people to the theater. But in order to do that, we had to get the right technology. So what we did is we said everything with laser, upgrading lasers, new lasers. We were the only one offering that, right? And still as

today

. And we introduced what we called laser as a service, which means that it allowed us to have people which, you know, say, well, we have the cash flows today, but we don't have the investment capital, but we still want to go to laser to be able to get them on the, on the train. And, and that was the fundament of Cinionic.. can we accelerate that with the customer? Dedicated cinema company. Can we accelerate that laser movement because the industry needs that? And that was the mission we were on at the time. 
So you partnered to create laser projectors that had many easy components to service, so they became easy to service. You offer financing service and upgrades?
Yeah, so one of the things we did already in the digital era is we were the projector with the first one, which was modular, right? And the modularity allowed us to do upgrades differently. Allowed us to drive the cost of spare parts, right? Because the ownership of a projector is down so it allowed us to go quickly to that. When we launched the Series 2, I made a commitment to the market. I said, "listen, your investment is going to be longer secured than any other of our players, which are out there." And I've been able to hold on to that because I've been able to, with that modularity, to be able to upgrade to laser with the same base. And of course, we changed the lamp components and we bring the laser in, but with the same projector and prolonged lifetime. You know, in a world of cinema where technology is not the core of what people feel comfortable with, you have to create comfort. And so for me, it was important, how can I make sure the market is comfortable that every X amount of years, they're going to have to upgrade? They're going to have to change because that's what the audience wants. Because our phones, our iPads, our televisions are every two, three years are going up and we need to stay up that curve. 
In the process of running a company and participating in an industry, I'm struck by the, the phenomenon that there is a baseline of resistance to all progress. And you've been very much about finding that baseline and moving it forward. Talk about that and how you approach resistance?
That's a, that's a good question, Jim. So different ways to look at that, right? But for me, there is, nothing can get done without a certain risk taking, right? Now what I've learned when you take risks, you cannot be behind of the group, you're gonna have to be in front of the group, right? Because somebody has to front that risk. And so I pride myself that I will be on that frontline because somebody has to be on that frontline. And that could be about embracing technology, building something which is not proven, or trying something new, it could be many of those dimensions. The other one for me is that I would call the, the, your stomach feeling about your belief, about what do I feel is going to be, what is the market really feeling, right? Or what is, what is, what can I take out of the market? And then connecting that with another, could be technology could be other things and and really truly believing that. If I have to take risk and being in front of a team in front of a new development, and I don't believe it, it's not going to work. So I need to first be convinced myself and then I can be the frontman on that. Of the person to drive that and bring the team along and then cover the bases when it doesn't go well the first day or the first time and make sure they are covered. In the world of change, which is constantly there. Risk taking is a fundamental part. And in technology, if we do not invest quick enough in the next thing we are behind. So it's a very common thing in technology. In the cinema space, I think it has been less. Having said over the last fifteen, twenty years, they have been going through many, many, many different steps. And have been adapting very strongly. 
In the last year artificial intelligence, machine learning has become a core topic. You see potential in, in that for this field?
I think so. I mean, to be honest, those are, I would call them basic building blocks, which everybody will have to get comfortable with. It's just going to be a technology allowing to do certain things more efficient or faster. I'm not a believer that this is going to revolutionize the whole world, but it will impact a lot of what we do on many of the functions we have in organizations. But we need to make sure that technology serves us and not the opposite, right? I'm not a believer in technology for technology. We're going to have in our lives more and more technology, not just in cinema, but everywhere. But embracing that in a way that how can it improve what I'm doing? How can it improve, you know, my output? How can it improve my customer satisfaction? Those are, for me, the ways to think about it and, and I think, you know, it's early days, but it's, it's gonna help us building better and stronger companies, in my belief. 
No conversation can be had right now without everyone wanting to talk about what we've learned from watching Barbienheimer. Barbie has now over $1.4 billion. Oppenheimer is at $900 million worldwide. They've been out for months. They continue to, to build these worldwide audiences. What, what do you take away from the success of these both phenomenal performing movies?
You know, it's it's not always predictable if a movie is going to be successful or not. And I think we have to keep it in mind because it means that we have to stay creative, of creating new content, right? Not just about what was good yesterday and hope it will be also good tomorrow. So both are great new ideas. I think the directors have done a stunning job. And if the content is great, the audiences come. What struck me with Barbie was people dressed up, right? Part of the cinema-going is the communal, because you're sitting there with a whole group of people, but also that afterwards I talk about it and, oh, I've not seen it yet, I need to go kind of thing. So that is also important in the movie-going business. 
There have been some economic stories in the major papers in the last week or so stating that between Beyonce's tour, Taylor Swift's tour, Barbie, something like eight and a half billion dollars has been contributed to the U. S. economy for third quarter. These have economic impacts. And I'm interested in your thinking about what do these massive over the top concert tours and these over the top motion pictures have in common? What is that telling you about the consumer?
I think one thing I wanted to add, and you bring me to it, is what Oppenheimer and Barber did very well, and I think the same thing you talk about the two live tours with Taylor Swift and so on, is what we call marketing, right? You have to make sure people know about it. If I saw the marketing campaigns, which the Barbie movie did, if I see how Taylor Swift, you know, sweeps the world around it, and whatever the stories it is or whatever you do it, it's about that you, you created something people want to be part of, that people are curious about it, that, you know, the fear of missing out, which is, which is a big thing these days, gets even fueled more. And I think that Taylor Swift for me is an other dimension than Barbie and Oppenheimer, which, in the sense that that type of movie is very well-related to be able to also bring to the theaters.
One of your partners, Cinemark, is offering moviegoers the chance to rent out auditoriums and watch the film version of Taylor Swift's Eras Tour concert on October 13. The cost will be $800. Talk about that, that idea. 
Smart, smart. The people who know me well know that I have a, a passion for this type of moviegoing experience. And let me say where it's come from: when we moved into COVID, we had people start being uncomfortable in a theater, being too close to other people, right? And there was a good reason for that. When we did analysis of the moviegoing behavior, we have seen that people would like to see the content, they want to see on their terms with their people, friends, family, whatever you think. But the fact that you can have a venue, which is your venue. And you show the movie, or in this case, a Taylor Swift concert in an out of home experience, but do it with the people you want to be around with is a value. So, Cinemark is smart. And I think that that's a trend we will see more in this industry.
Our guest insider

today

is Wim Buyens. He serves as CEO of Cinionic, and he's joining us here in Los Angeles. We'll be right back.
The Insiders Show is made possible through the generous support of Cinionic. Providing future ready technical solutions to cinemas. With more than 100,000 projectors installed, Cinionic now illuminates more than half of the world's cinema everyday. Visit cinionic.com.
Our Insider

today

is Wim Buyens, CEO of Cinionic, he's live with us here in Los Angeles. Let's talk about what's coming next from Cinionic. You have crossed the digital, laser is now just the standard that people are excited about. What are you working on now? 
Well, it was a privilege several years ago, and we talk about 2016-17, that we acquired a company which was working what we thought was the next thing. Something which was laser related, what's called

today

the high dynamic range. Moving up and get much more detail out of our picture than we have, and I had a technology called light steering, which very soon we will go to the mass on that. And why do I say it's the next big thing? Because it's an evolution on the fact of laser, right? The next thing for laser because without laser, we couldn't do that. But it allows us to bring the next level of efficiency and picture quality to the cinema. When I say efficiency, it means it's still a projection related solution. So it means that I still have all the benefits of projection, right? And I can put in my current infrastructure, but it allows us to show HDR in a level, you know, 300 nits on a picture, which, which is way beyond what we can do today. The details you can see is, is, is just mind blowing. And we think this has the potential to go mainstream, right? It takes time, right? I mean, every, you know, evolution like this takes time, but it was one of the things. Also, with Cinionic, we said that getting a better picture quality. Also, we need to integrate more with the content creation world. And so you will see that live streaming is part of that too, because we need to be together with the creatives, optimize the content to get a better result, depending on the equipment you would put in your, in your cinemas.
Now you've been here a fair number of years. When you take a look at your experience and what you came through and the marketplace and what a company like Cinionic wants and, and can value in an employee. What kind of people do you look for to hire and bring into your team? 
It's a good question. The war for talent is still on, I would say, right? And even though after COVID it has not made it easier, but we found a rhythm that we have a very good way of getting people into the company. But the thing I would say what I'm looking for is do people fit culturally for the company we want to be, right? Is the vision we have, is the ambition we inspire to be, do they feel comfortable with that? Can they echo that, right? The passion is important. The company culture is important. If somebody doesn't match about the DNA, what your company want to be, first of all, the people are not happy. And it doesn't inspire our customers what we, what we're trying to be, right? 
How do you see yourself in your role in this company? Are you a growth catalyst? Are you a change agent? How do you see your job every day? 
That's a good question. You know, I always say that I cannot do a lot being one person, but I need to create an environment, a company culture where people can perform. I need to allow them to perform. If I start micromanaging or want to get everything through my desk, then probably nothing will happen. But having, you know, looking at from a different side is I do believe that being able to see what is needed for a certain market with a certain technology, have the capability of the risk taking and being comfortable with it and leading a team to success there that I have been able to do now several times, and then I feel good at doing those combinations. I feel I can do something which maybe some other people don't do. And that's why I do it. So we're trying to figure out what are we good at. But it's definitely an evolving process. 
All the major cinema operators are close partners of yours. And you talk about their enthusiasm for getting the best picture on the screen in my experience the most enthusiastic people about laser are the directors And the cinematographers and and the studio teams that send their movies out to these theaters. So you've got a happy coincidence that both your cinema owners, but the people in Hollywood are absolutely thrilled that laser is becoming the standard. 
I think so. I was talking yesterday, I had a dinner with one of the studio executives and he mentioned how thrilled he was about the fact that laser is there. But also the fact that they see what it can do on the post production side. They can see what it can do on improving getting a better picture quality or get a better experience out there because also, as a director, you have to think what's next, right? And, and many directors are very much thinking about it, the whole story, but also about, am I using the right techniques? Can I maybe optimize things? We're working very close with Hollywood and the content creator communities in order to see what's next and how can we make sure they are the creators, not us, right? So, so we bring to do what they want to do with it. 
Do you ever feel that the mission is accomplished? 
No, no, no, it will never be accomplished in my book. But, I think that we are on a journey, whatever way the journey takes us. It's been great, but I've been able to be part of, I would call it within the cinema space and Barco and then later on Cinionic, but you have to be comfortable what you do and with the journey. But let's see what's what the tomorrow will bring us, right?
Wim, you served as chairman of our Advanced Imaging Society here in Hollywood and, and led us there. You have been a deeply valued partner to the cinema industry and we're lucky to have you leading us into the future. Our quote of the day comes from Walt Disney, whose company is celebrating 100 years of entertainment and technology achievement for cinema. He said, "times and conditions change so rapidly that we must keep our aim constantly focused on the future." Thank you Mr. Disney, thank you Wim, and thank you all for listening. 
The Insiders is presented by Cinionic and produced by the Advanced Imaging Society in Hollywood. Our executive producers are Adam Cassels in New York and Mike Piltzecker in Los Angeles. Brett Harrison produced

today

's show and our technical director is Matthew Bach-Lombardo. This is AIS.