Live From Cinionic Theater 2021 taping on August 25th, on stage r-l; Jim Chabin, President of the AIS; Wim Buyens, CEO, Cinionic; Mark Zoradi, CEO, Cinemark; John Fithian, President & CEO, the National Association of Theatre Owners.
The Insiders Show podcast is a series of conversations with innovators within entertainment technology and a response to the ongoing need for information due to emerging technologies and changes in consumer behaviors during COVID-19
Find The Insiders Show on your favorite podcast player here.
Bonus Dailies: Tuesday Highlights from Vegas
From CinemaCon 2021, Wim Buyens and Jim Chabin report on the latest breaking industry news coming out of Las Vegas during this important moment in cinema history. This round-up includes updates from studio presentations, including news and reactions on the latest trailers and films shown at the annual gathering at Caesars Palace.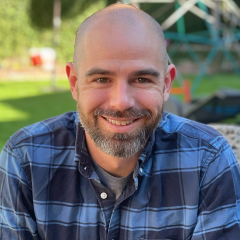 Guest: Kip Kroeger, Supervising Producer, Ted Lasso
Kip Kroeger is an award-winning producer who began his career working as a PA on Scrubs, moving up the ladder to Post-Production Supervisor by the series' final season. Currently, the supervising producer of AppleTV's hit series Ted Lasso, and a co-producer on such productions as ABC's The Conners and FX's Dave, Kip spends his dwindling free time developing his own streaming, film, and TV projects.