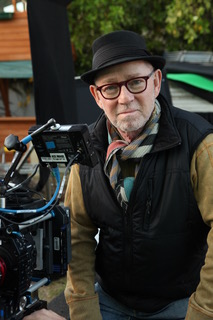 Steven Poster ASC has always been fascinated with the art and science of capturing images. Beginning with still photography, Poster knew he wanted to make movies by the time he was fourteen. Poster's fascination with a neighbor, a news cameraman who later became his mentor, sparked an unwavering desire to make movies, and instilled a permanent preoccupation with the cinematic beauty of still images.
A Chicago native, Poster began his college education at Southern Illinois University as a member of a special program conceived by Buckminster Fuller, the master of problem solving through deductive reasoning. Transferring to the Los Angeles Art Center College of Design, where he is now teaching. Poster learned how to 'see light' and was taught a true professional discipline. Returning to Chicago, he graduated from the Institute of Design of the Illinois Institute of Technology, where he was greatly influenced by the philosophy of Bauhaus design: Form should fit function.
Steven Poster launched his cinematography career in Chicago, at age twenty-one, and began with filming television commercials, Cinéma Vérité documentaries, and industrial films. He soon moved on to feature films, working as Second Unit Director of Photography on "Close Encounters of the Third Kind", and did significant additional photography on "Blade Runner".
As Director of Photography, Poster has filmed a variety of motion pictures including "Stuart Little 2", "Daddy Day Care", "Rocky V", "The Cemetery Club", "Life Stinks", "Opportunity Knocks", "Next of Kin", "Big Top Pee-wee", and "Testament", as well as the controversial, award-winning music video for Madonna, "Like a Prayer". He received an ASC nomination for Best Cinematography for Ridley Scott's "Someone To Watch Over Me" and has the distinction of being the only American cinematographer to shoot a French language film in France, "Une Chance sur Deux", for director Patrice Leconte.
Steven Poster began collaborating with, innovative writer/director, Richard Kelly, in 2001, with the ingenious cult-favorite "Donnie Darko", and continued with "Southland Tales", in 2006, which was chosen for full competition at the 2006 Cannes Film Festival. In 2008, Poster and Kelly completed "The Box", starring Cameron Diaz, Frank Langella and James Marsden. In 2009 Poster filmed "Spread", Director David Mackenzie's first American movie starring Ashton Kutcher. Poster also photographed "Amityville Awakenings." for Blumhouse Films.
In addition, Poster has done work on numerous television pilots and filmed the critically acclaimed television movies "Roswell", "Mrs. Harris", "The Color of Justice" and "Courage", as well as several episodes of "Master's of Sex". In 2012 Poster completed the pilot for the Netflix series "Hemlock Grove", by Director Eli Roth.
Steven Poster is Past President of the International Cinematographers Guild, a ten thousand- member trade union representing camera workers for movies and T.V. and publicists across the United States. In that position, he spearheaded the transition from film to digital. Poster is a former President of the American Society of Cinematographers and a current member of the board of governors at the ASC. He was also an Executive Board member of the International Documentary Association.
Poster has also served on the finalist judging committee for the Nicholl Fellowship of the Academy of Motion Picture Arts and Sciences, on the Board of Directors for the PBS Series Craft in America.
Steven Poster has a passion for mentoring young filmmakers, students of Cinematography, and even high school students around the world who are interested in the motion picture industry. Steven was a 10-time advisor to the Sundance Institute Directors Laboratory. He has taught master classes and mentoring at USC, UCLA, Art Center College of Design, Brandeis University, Southern Illinois University, Baylor University, University of Oklahoma, University of Wisconsin, and Southeastern Missouri University. Steven has personally mentored dozens of young artists and cinematographers. Many of who have gone on to have successful careers in the motion picture industry. Poster is currently teaching Cinematography at Art Center College of Design.
Poster has also been a fierce advocate for the development and transition to digital imaging in the motion picture industry. During his tenure as President of the American Society of Cinematographers, Poster was responsible for re-forming its Technology committee (now referred to as Motion Imaging Technology Council or MITEC). This committee is at the forefront in standard-setting recommendations for the paradigm-changing use of digital tools for cinematography, and the post-production control of images. Poster has also spoken on the subject of cinematography and digital technology internationally at events in England, France, Amsterdam, Japan, Korea, China, Thailand, Australia, India, Canada and Mexico.
Steven Poster has been engaged as a consultant for major motion picture related corporations that supply technology and services to the industry for many years. Poster is currently engaged as a board member on BAYLOR 6P Color Inc., a for-profit technology company developing new and innovative ways to see color. His invaluable insights on current practices and future trends have been integral in guiding the productive decisions of these institutions. This work is in adjunct to the extensive writing Poster frequently publishes. During his thirteen-year Presidency at the ICG, Poster wrote a monthly editorial for International Cinematographer magazine. He is currently a columnist for British Cinematographer Magazine. He has also contributed to American Cinematographer magazine and his insights have been featured in many technology related publications and podcasts.
When asked what inspires him, Steven Poster said: "Telling worthwhile stories with images, moving or still, is what ultimately inspires me. I am energized when those images elicit a palpable response from an audience. That is the magic of sharing my work with others.
The spark that occurs when I am engaged with others in imparting ideas, the action of exploring what it takes to tell visual stories, hashing out what it takes to enter, and have a successful life in, the world of show business…These moments of understanding are the foundation of my enthusiasm for this business."
https://theadvancedimagingsociety.com/wp-content/uploads/2022/11/IMG_4479.jpeg
320
213
advan
https://theadvancedimagingsociety.com/wp-content/uploads/2019/12/AIS_Logo-new-white.png
advan
2022-11-09 15:20:08
2023-11-08 02:45:27
Steven Poster