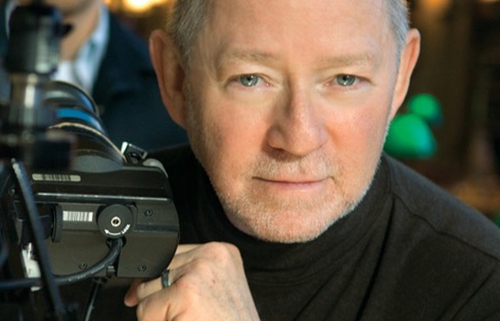 Steven Poster ASC has always been fascinated with the art and science of capturing images. Beginning with still photography, Poster knew he wanted to make movies by the time he was fourteen. Poster's fascination with a neighbor, a news cameraman who later became his mentor, sparked an unwavering desire to make movies, and instilled a permanent preoccupation with the cinematic beauty of still images.
A Chicago native, Poster began his college education at Southern Illinois University as a member of a special program conceived by Buckminster Fuller, the master of problem solving through deductive reasoning. Transferring to the Los Angeles Art Center College of Design, where he is now teaching. Poster learned how to 'see light' and was taught a true professional discipline. Returning to Chicago, he graduated from the Institute of Design of the Illinois Institute of Technology, where he was greatly influenced by the philosophy of Bauhaus design: Form should fit function.
Steven Poster launched his cinematography career in Chicago, at age twenty-one, and began with filming television commercials, Cinéma Vérité documentaries, and industrial films. He soon moved on to feature films, working as Second Unit Director of Photography on "Close Encounters of the Third Kind", and did significant additional photography on "Blade Runner".
As Director of Photography, Poster has filmed a variety of motion pictures including "Stuart Little 2", "Daddy Day Care", "Rocky V", "The Cemetery Club", "Life Stinks", "Opportunity Knocks", "Next of Kin", "Big Top Pee-wee", and "Testament", as well as the controversial, award-winning music video for Madonna, "Like a Prayer". He received an ASC nomination for Best Cinematography for Ridley Scott's "Someone To Watch Over Me" and has the distinction of being the only American cinematographer to shoot a French language film in France, "Une Chance sur Deux", for director Patrice Leconte.
Steven Poster began collaborating with, innovative writer/director, Richard Kelly, in 2001, with the ingenious cult-favorite "Donnie Darko", and continued with "Southland Tales", in 2006, which was chosen for full competition at the 2006 Cannes Film Festival. In 2008, Poster and Kelly completed "The Box", starring Cameron Diaz, Frank Langella and James Marsden. In 2009 Poster filmed "Spread", Director David Mackenzie's first American movie starring Ashton Kutcher. Poster also photographed "Amityville Awakenings." for Blumhouse Films.
In addition, Poster has done work on numerous television pilots and filmed the critically acclaimed television movies "Roswell", "Mrs. Harris", "The Color of Justice" and "Courage", as well as several episodes of "Master's of Sex". In 2012 Poster completed the pilot for the Netflix series "Hemlock Grove", by Director Eli Roth.
Steven Poster is Past President of the International Cinematographers Guild, a nine thousand- member trade union representing camera workers for movies and T.V. and publicists across the United States. In that position he spearheaded the transition from film to digital. Poster is a past President of the American Society of Cinematographers and is currently the ASC treasurer and a current member of the board of governors at the ASC. He was also an Executive Board member of the International Documentary Association.
https://theadvancedimagingsociety.com/wp-content/uploads/2022/11/Poster-Steven.jpg
500
500
advan
https://theadvancedimagingsociety.com/wp-content/uploads/2019/12/AIS_Logo-new-white.png
advan
2022-11-09 15:20:08
2022-11-09 15:20:08
Steven Poster